The Nearsoft Timeline
There's three things to know about Nearsoft: culture, software development, and community.
Culture
Culture: Treating people like responsible adults is our thing. We work in self-managed teams. No managers here.
Software Development
Extending software teams is our core business. We speak up, self-direct, and, take ownership to build superb software products with our clients.
Community
Sharing our knowledge and the passion for what we do is at the heart of our company. We bond with the software development community.
Our story began more than ten years ago…
2007
La Casita
"La Casita" was our first office. A very small house as the term in in Spanish suggests.
A Proper Office
A humble beginning didn't stop us from working hard and dreaming big. With our first inauguration we upgraded from "la casita" to a "real" office.
2008
Great Place To Work
We celebrated year one as a Great Place to Work! We haven't stopped improving our senses of Credibility, Impartiality, Respect, Camaraderie or Pride ever since.
We've always been ranked in the Top 20 GPTW companies in Mexico.
2009
Freedom at Work
Freedom at work is in our DNA. We became a Worldblu Certified Company for the first time in 2009. When everyone makes decisions, bigger and better things happen!
Look, a Sign!
Continued to scale. We upgraded to a larger office that included a real Nearsoft sign on the building!
2010
Our Values
We redefined our core values as a team, with everybody involved in nailing down what was most important to us as a team: Teamwork, Leadership, Commitment, Long-term Relationships, and Be Smart and Get Things Done.
No Employees
Friendly reminder: there are no employees in this company.
2011
Fifty!
During our fourth anniversary there were around 50 Nearsoftnians.
First Summer Talks
With the debut of Summer Talks, we opened our doors to and shared our knowledge with university students. We loved every moment!
2012
6th Place in GPTW
We became the number six company in the Great Place to Work list in 2012.
Our Vision
Together we determined our five year Vision, 2012-2017.
2013
One Hundred!
In just six years we became a community of 100!
SofE
Our first Student of Excellence (SofE) competition took place in Hermosillo. We strengthened our bonds with local universities and colleges.
2014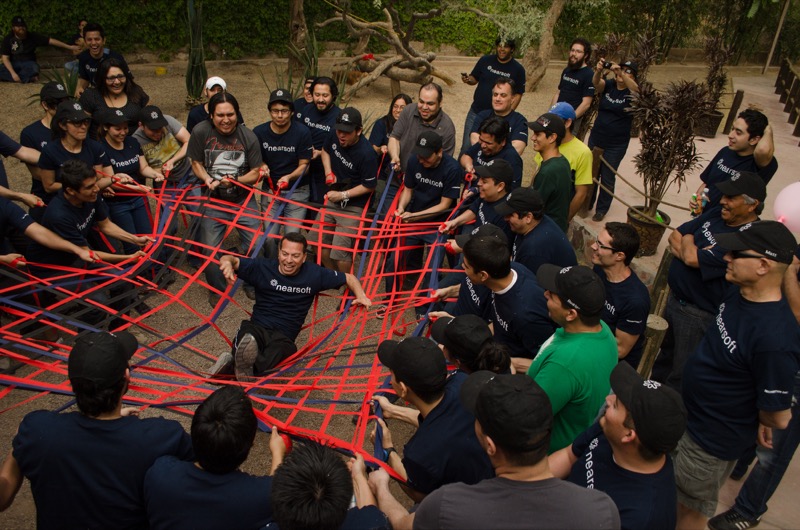 First Team Building Day!
All of Nearsoft gathered in the one place to work and play together, all while building the Nearsoft of the future. Our first Team building Day!
Our Dream Office
There's no place like home! We finally moved in into our dream office in Hermosillo.
UX Team
Seeing how our clients needed the help, we launched the UX Team.
2015
Freedom Centered Workplace
We have been a Worldblu certified Freedom Centered Workplace for seven years.
More Offices!
The Nearsoftian tribe kept growing and growing: we opened new offices in Mexico City and Chihuahua.
SoftwareDevTools
The more we worked as remote extensions of our clients team, we realized we could work better if we had the tools. We launched SoftwareDevTools to develop these tools, identify problems, find opportunities, and build solutions.
2016
Nearsoft Takes Cancun
TBW5 marked our first Team Building Week away from home, and in Cancun no less! #NearsoftTakesCancun
More Nearsoftians
2016 was a year of growth with more than 70 Nearsoftians joining the team!
2017
10th Anniversary
Nearsoft celebrates its 10th anniversary with almost 300 Nearsoftians.
Nearsoft is acquired by Indecomm, a global services company. The plan going forward is to grow the Nearsoft footprint in Latin America.
2018
11th Anniversary
We just celebrated our eleventh anniversary. We're ready to see what 2018 has for us!